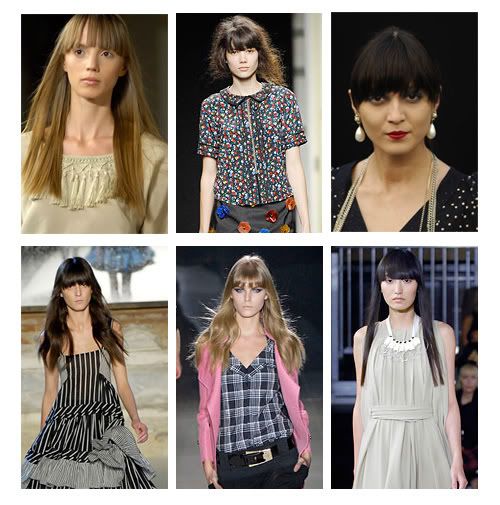 I've always wanted to make a post about bangs, they give people who wear them so much personality, and there is a kind of it for everyone. I collected pictures from some sites, magazines and stuff, so here you have quite a summary on bangs =)
Sorry about the low quality of these 6 pictures. They're from some Peruvian magazine i didn't intend to buy, so I just took some pictures of it with my cellphone. On the first top three pictures, we can see long bangs (which are a little bit under the eyebrows) , picture 1 & 3 show denser bangs.
First we have short bangs. They are ideal from everyone who doesn't have a large forehead, this looks will create the image of a longer forehead. It doesn't matter how long your hair is, it will look amazing with short-length and long-length hair. There is also more dramatic ways to achieve these look (maybe three fingers over the eyebrows).
Second, we have the looooong bangs, wich Kate Moss has been rocking lately. These are my favourite. I really love Liv's (want mine to look like that).
And Third, the swept side bangs, classy and probably the safest. Nicole Richie's all-the-time look and also, the way I'm keeping my bangs right now. Vanessa Hudgens seems to love side swept bangs too & although, this is not a recent picture of Mischa Barton, bangs were great on her.