Lately many sites (including this one) have been paying much more attention on Emma Watson's good choices in fashion. Actually she deserves that recognition, she has improved quite a lot over the years, specially this year. Anyways, I'm not going to talk about Emma anymore on this post. The girls I'm gonna talk about on this post are also famous because of their roles on Harry Potter movies.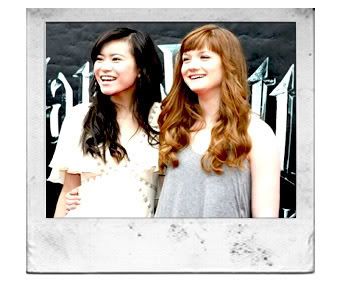 They're both so pretty and unique, and hey! both of their characters get to kiss Harry ;). Besides being that cute, they know how to dress indeed. They're Bonnie Wright and Katie Leung.
--------------

Bonnie's 16 (just as i am) and she's the perfect redhead to play Ginny Weasley. I find her style pretty up to date, usually adding vintage accesories such as oversized glasses and random necklaces. Let's see some pictures.

She takes it easy, goes for a simple black dress adding fun colours, such as red & lemon green. On the first pic, we can see her carrying her little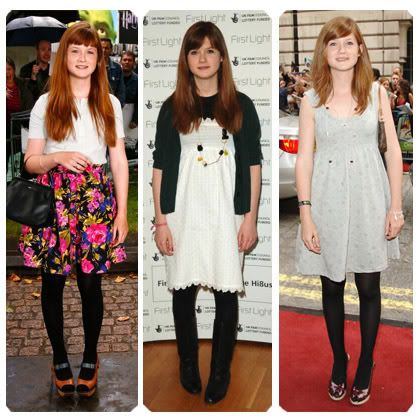 On the pictures shown above we can see how Bonnie loves wearing tights. The first outfit looks pretty nice, everything looks alright together, even the shoes. On the second outfit, she rocks some summer dress with a high neck top inside plus a dark-green cardigan. Finally, on the third picture, she achieved a perfect naive look and her hair looks perfect for the outfit.

On the first picture, I'm loving her vintage oversized glasses and the hoop earrings. In the second one, who would mind owning a little
Louis Vuitton
bag? Not me ;)


--------------

Katie's 20 and we all know her mostly for her role of Cho Chang, who is the girl Harry likes and blahblahblah and they even got to kiss in the 5th book, plus I'm sure most of us saw the kiss on the big screen (OoTP). But Katie's not only that, she's one of the coolest young
fashionistas
.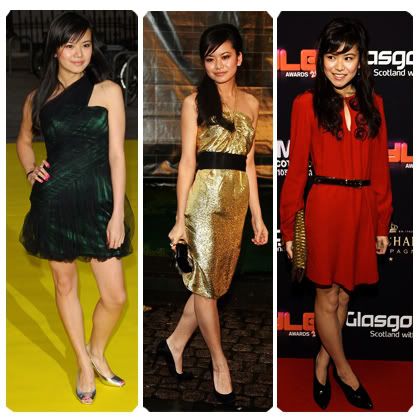 I have no idea who the first & third dresses belong to, but I'm pretty sure the golden one in the middle is

Lanvin

.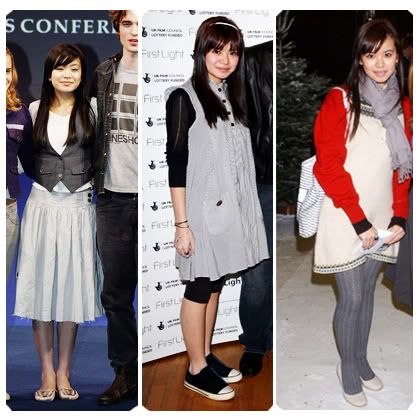 above: the first dress is quite lovely. On the second picture, she's wearing a leopardDolce&gabanna dress and I love her black oxfords. Uh, in the third photograph, those purple tights totally make the outfit.