Although, in Peru, we're in Spring, it isn't that hot. At midday, is kind of hot, but it gets cold by the evening. That's why I'm not giving up on cardigans & other sweaters until probably December, when we instead of snow, as we see in almost every Christmas movie, have a hot hot weather (It's quite disappointing, i know). I also love cardigans, because i gain a lot of weight when it's fall [you know, lots of chocolates and sweets ;)] and they hide my belly =P

Many celebrities seem to know, cardigans are hot right know and got their own in their favourite colours. Fun to see, as we saw quite a lot of black & grey on the runway.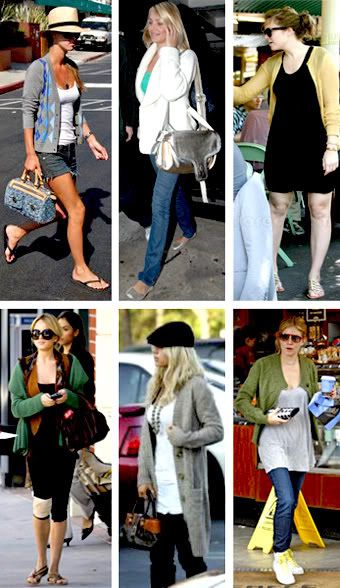 Nicky Hilton, Cameron Diaz, Mandy Moore, Lindsay Lohan, Jessica Simpson & Sienna Miller


Sophia Bush, Lauren Conrad, Keira Knightley, Jennifer Garner & in the last pictures, Vanessa Hudgens rocking her American Eagle long cardigans.
Nicole Richie, Mischa Barton & Sienna, again