It was love at first sight. These tights are the reason why I begged my mom so much. I have spent the last two hours asking every five minutes "Can I have them?". She actually said i could borrow them whenever I want, but they just couldn't be mine. But hey, there's a huge difference between owning and borrowing something. I'm quite disappointed because she's only keeping them with her other tights and never wears them, I'd make a better use of them instead =P. Anyways, I still have no idea about how to wear them =), so I'll just wait until some ideas come up to my head and then I'll ask her again ;)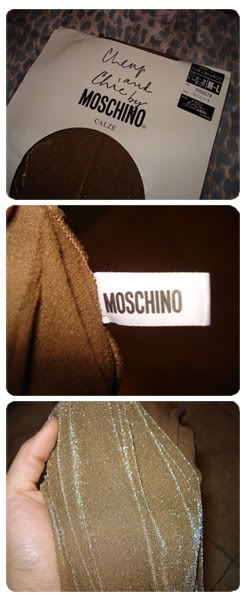 The camera kinda screws the colour and fabric, but not too much ;). They're shiny gold. I was checking some runway pictures and I didn't find Shiny tights on Moschino Runway for 2007 ( the bright coloured ones are just too popular at the moment), but in Anna Sui's 2007 Fall Runway =).

I want to change the subject a little bit (or maybe just

completely

)
Remember my post about the
15th August 7.9 earthquake
?. When i posted about it, i was only aware about forty of the death bodies that were found until then. The next day (16/08) the media said they weren't 40 dead, but +500. The Earthquake devastated the city of Pisco, very near Lima (Where i live) and although i really wanted to go there and help I wasn't allowed because of me being underage, some of my friends who are 18 had the chance to go, not my case.
Peruvian musicians organized a charitable concert to benefit the victims, and it took place the 29th September in the National Stadium. Of course, I attended it with some friends; it was amazing to see the amount of people who went, the tickets were sold out before they day of the concert. Pictures were shown in huge screens, it was pretty sad. Those pictures were showing the reality the way it was and it moved me.
Al sentir yo que mi ciudad estuvo tan cerca de desaparecer, creo entender, o al menos acercarme al entendimiento de lo que deben estar sintiendo aquellas personas en estos momentos; niños sin padres, personas que no se alimentan bien por días. Una locura total. Cosas que al ver te dan ganas de tener el control de todo.
At the end of the concert they announced the amount we raised, it was 1,9 million soles (like 633, 300 US dollars) which is going to be donated to build houses for the people who are sleeping in tents on the street.

Most people think that because someone is interested in fashion, he/she is shallow and selfish and It's not like that.

Mi interés por la moda no tiene que ver con mi sensibilidad ante los problemas que hayan en mi sociedad en lo absoluto. El que aprecie la creatividad de algunos al vestirse no significa que todo gira en torno a ello o que sea una cabeza hueca.
Just wanted to make that clear. So my resolution for the next two months it's to not buy something if I don't need it, otherwise I'd be acting in a selfish way, you know, spending money on not relevant stuff while others don't even have money to eat. So, yes, I'll stop shopping for a while, until Christmas, because i want to buy something for my parents and sister. And I'll also pick the stuff i don't wear anymore and send it to charity.

Uhm. I'll still post about fashion, because I love to do it. Sorry for the lack of bloggage, it's just that I spend almost all the day at university and when i come back home i just want to read or if not, sleep. I think I'll start blogging from university computers ;).

Thanks for the 28 commenters ;), I'l return your comment asap, you're so nice.

x