Last week I had one of those days when you're supossed to read like crazy but for some reason i can't understand quite well, i ended up doing everything but reading. I left my books and summaries somewhere on my bed and started playing dressing up. Wanted to try something different as lately I'm too lazy to wear something nice enough, I wake up very early and I just take a fast shower and grab the first pair of jeans i find, a long sleeved tee, a jacket/cardigan and a scarf, yeah i know it sounds like a uniform, actually i feel like that too, but time's gold these days ;). That's when I found two skirts i rarely wear and decided to try fresher looks with them, as spring's coming sometime
soon
.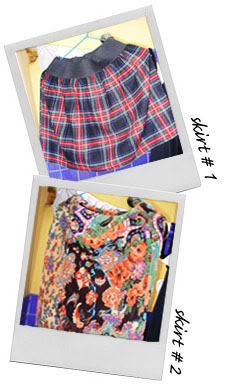 The first one is a plaid skirt, which used to belong to one of beloved cousins, so I guess is from the 80's. Pure vintage, baby!. The second one is a flower skirt my aunt bought for me when she traveled to the uk. Played a little bit around and here you have the results:

Strapless Plaid top
+
necklace i bought for less than a dollar, in Cusco (city, ubicated in Peru, you should totally visit, mainly because of Machu Picchu, as you know, one of the seven wonders but also because it is so charming and you'll have a great time there for sure), which has hanging a "
Chacana
", which is rumored to be some kind of cross from the
Incas
+
Thin black belt that used to belong to my mother
In the first picture I'm wearing an orange cardigan that was given to my mother, but as she's so skinny, it didn't fit her well (that's right, i weigh more than my mom), so she gave it to me, a heart necklace plus short black skirt, wich looks even shorter because of the length of the skirt I'm wearing as top. In the second picture I just wore a black bolero (i know everyone's so over them, but I still love mine) instead of the cardigan and took off the heart necklace.
The question is:
Have you ever done this before?
Thanks for the comments, you guys are so nice. I promise I'll return them as soon as possible. Now I'm out to read Cosmology, I have a test tomorrow =). I know it has nothing to do with my career but university oblige us to study very random subjects such as History, sociology and more =) for the first four semesters.