Maybe you still love leggings and can't get enough of them. Don't be ashamed of that, I still love them too. Well, here's the solution: lamé leggings (or leather ones if you're willing to spend a little fortune on a trend that will only last one or two seasons more). For $40 you can get your own pair at American apparel
here
, or for $113 these
Kova & T latex leggings here (yeah, maybe that's really out my range too, but just in case you wanna know...)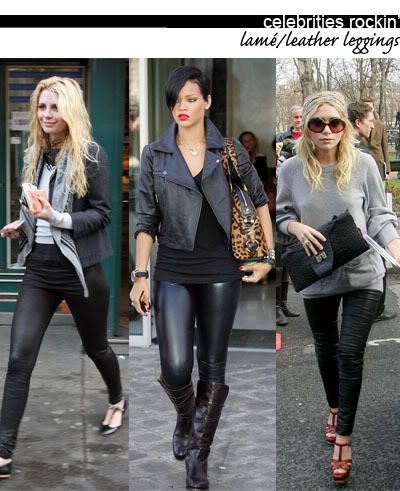 From Mischa barton, to Rihanna and Ashley Olsen, they have all been wearing these leggings. I was so happy to found these pictures of Mischa, she looks very well put together, she's getting better, which is cool because it was about time and I missed her. Rihanna and Ashley seem to be rather wearing latex ones. Ashley's look is perfect, although her leggings look kind of crumpled, i guess it's because she's very
petite
. On the other hand, I'm not really feeling Rihanna's, looks like she tried too much to achieve a motorcycle rider look and went all black and then killed it with the animal print sophisticated bag.
Of course I had to include the queen of leggings and
2006
style icon, Lilo, who has been wearing a lot of lamé leggings lately instead of her usual cotton leggings (yeah those she usually wears as pants).
My favourite outfit of these three pictures is the first one, it's very rock n roll. I hate the second picture (the scarf, the fake tan -in cold weather- and the kissy face -maybe it was just collagen, dunno- need to go) and the third one looks ok to me, still kinda boring.
Which are your favourites? Do you agree or disagree on my picks?