I received some money for my Birthday I decided to save until it was time to do some shopping. And as this was my last week of vacations (I've been in vacations since December last year) any shopping I wished to make had to be on this week, classes at uni start tomorrow (I start my third semester, still have 7 more to go, it's cool though, I missed uni already, three months of vacations is quite a lot for anyone I guess) and I don't think I'll have as much time in my hands to do some shopping. Well, the point is I went shopping with my mom (my favourite person in the world to shop with) and here you have some of my buys.
I got basic short-sleeved tees in white and grey in a size bigger. They are perfect for dressing quickly and they allow me to go crazy on the jewelry/accesorizing. I swear they make things so much easier.
I've just realized I look like a pregnant woman in the second picture wearing the grey tee, ha.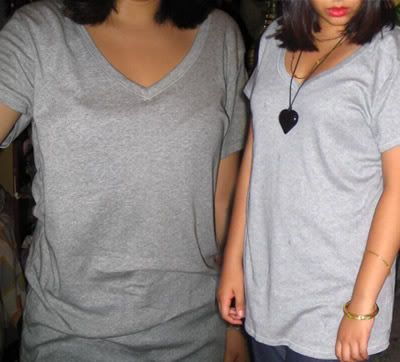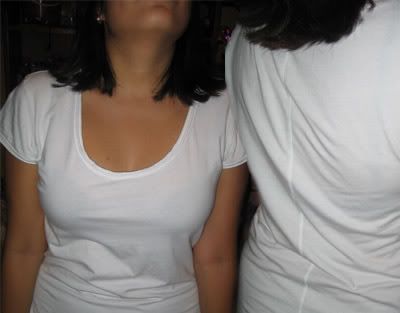 Remember my
wishlist
? Well, now there are only three outerwear pieces left ;). I actually wanted a longer vest, but this gray one will do ok.
On my post on Alexandr's Wang S/S 2008 collection I mentioned how interested I was in getting my own shirt, so here you have it, it's white long sleeved (so i can roll them) one and as much as you said, it was very easy to find, they were like millions out there, but I specially liked this, it's long and the chest pocket is ok also, plus it's cotton made, so it won't make me sweat.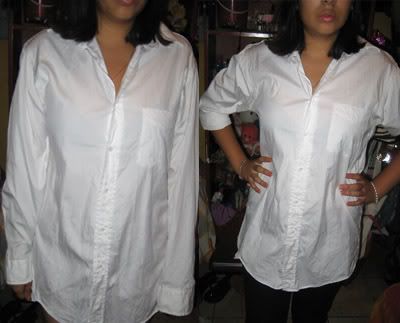 It was the closest thing to an impulse. My mother saw it first and when she showed it to me I was 90% sure I wanted to get it. Dunno what else to say, I guess I'll figure how to wear this in the next weeks.

I didn't exactly bought this. I wanted one, my mother had one she didn't want so she told me i could hand it down. Yay for saving money ;)