I remember writing some months ago about how plaid reminded me of the very talented Kurt Cobain (RIP). Inspired on the "channeling" idea, I've prepared this post to discuss about how some old rock n roll items are still being worn today making average outfits more interesting.
-------------------------


Some days ago, Kat from
She's in Vogue
wrote about how important is to have a striped t-shirt. I was not surprised to read that some people considered it even a basic in their wardrobes. It's not like "the
80
s are not back", because they were always here, and the classic striped tee is a proof of that.
-------------------------

Ripped jeans
. It's not like "ohmygod they're back", but we don't have to follow fashion exactly like magazines and E! news tell us, right?. No, no. Here you have some pictures of how
Ashley Olsen
and
Vanessa Hudgens
managed to look great with ripped jeans.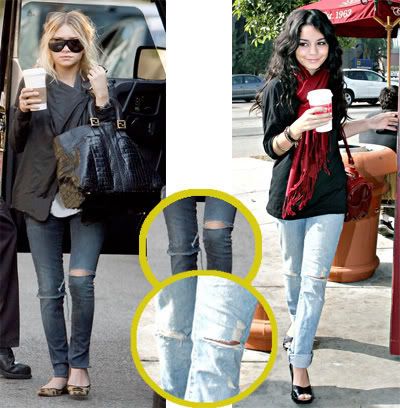 -------------------------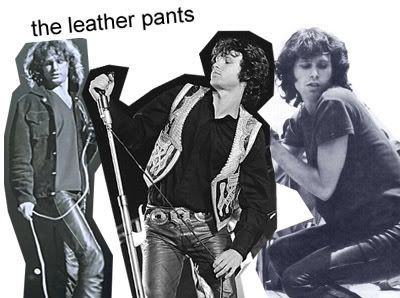 Jim Morrison
, leader of
The doors
, another of my favurite bands, was popular for wearing these, that's right, leathr pants were huge in the
70
s. But now, I really can't picture myself on them. As leather pants are pretty difficult to pull off, designers around the world came up with a more up-to-date version of leather trousers:
spandex lamé leggings
.
-------------------------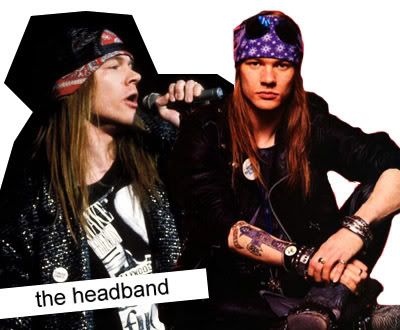 The popular
Axel Rose
look. I've tried this look many times (perfect for concerts). It's very cool and easy to do and it doesn't matter how boring is your outfit, a headband like this will make everything look much more fun.