Luella happenned to be one of the most applauded collections for Spring 08. The flower prints, the lace up boots... just perfect. But, it wasn't only that, the thing that caught our eyes the most were those thick frammed oversized glasses that until then we thought only grandmothers could pull off. Luella definitely made an statement.

I started wearing glasses two years ago, before I got into University. The amount of reading and the time I spend on the computer (working, making essays, blogging) made my ophthalmologist realize my need of
reading glasses
(I only wear them when watching tv , reading or when I'm in front of the computer). We're in Summer at the moment, and the climate is hot as hell, so I can't stand wearing too many accesories, having said that, you'll understand better why I just can't keep my hand off my lovely oversized glasses, even when I'm just walking around some mall and I have no need to wear them. I bought the frames last year just after watching the Luella show for less than $4 (US dollars), and got my eyes tested again two weeks ago.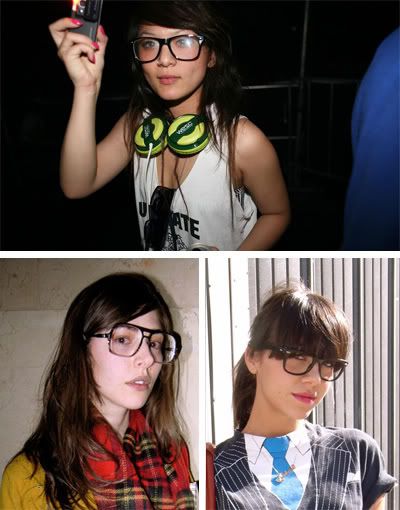 Valentine's day? Well, I don't really mind about it. I had lunch with my dad and sister and I'll probably hang out at my friend's house later, just the usual stuff, you know goofing around, talking and eating
maybe
(although, i really hope we don't, because I ate a lot on lunch). Valentine's just like another day. I love my friends and I will tell them so everytime I can, not only because it's 14th February, that would be just wrong.
Btw, i got a new camera! a canon powershot Sd-1000, because we lost (ehem, ehem,
I
) lost the sony cybershot we used to own.
Thanks for the nice comments!
♥