When there are many great sites out there, making a difference with yours is not as easy as it sounds. I created this blog to keep you entertained and informated about the latest trends around the world, not only in the runways but in how the people (celebrities or not) are carrying them and until some days ago I couldn't think about anything innovative, because, you know, fashion has been quite the same for a while now (I'm talking about bandage skirts + basic tees + florals + tights combos, which are cool, but not that interesting anymore). Anyway, With the upcoming SS trends, I think there is a lot of new material for new bloggage.
Moving on to more relevant stuff, here's what I'm loving lately:
Penny Loafers.
First of all, they're practical and comfy (the flat ones), I love them flat, they'll bring such a cool college/school/masculine vibe to your outfits. It seems like the preppy look it's finally making an appeareance!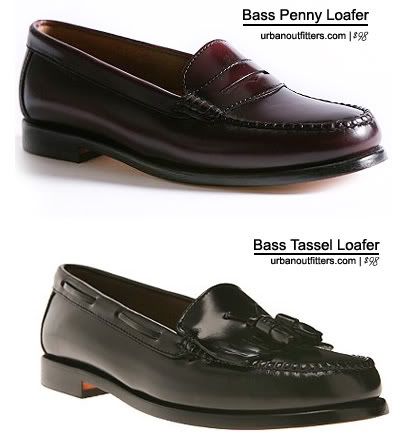 The trend is not very popular in Hollywood or bloggers yet, but I found these pictures of some brave ones who have been walking the streets in them. Here's some inspiration for you!
Katie Holmes shows us how to wear penny loafers in a normal day, grab your favourite pair of straight leg jeans, a baggy cardigan and a scarf. The result?
simple yet fashion
.
The Feminine look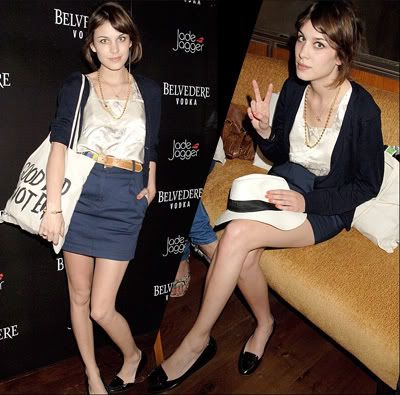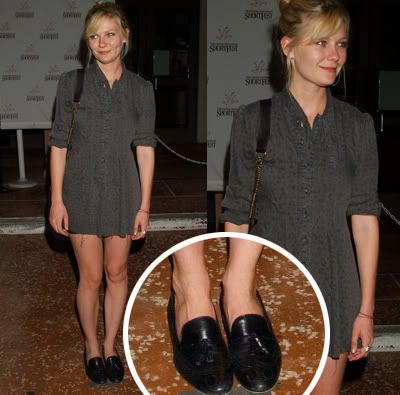 To achieve this look a cute mini dress or a skirt will do alright. You can add a bunch of accessories (just make sure they're all not too matchy to make it more interesting) like Alexa Chung did or just keep it simple like the lovely Kirsten.
The rock and roll look

Kelly Osbourne has been looking a lot better these days and she definitely was thinking right when she dressed like this. As Ozzy's daughter, she sure knows how to work a rock and roll look. The beanie and the plaid blazer are key elements on this outfit, you can also try with a flannel shirt to achieve a more grungy look.
-----------------
Last, but not least. Thanks to everyone who kept checking the site and left nice comments and sent me e-mails reminding me of the site. You're all sweethearts :)