I've read that, for some, their comeback would be a nightmare. I also have seen them featured as a fashion don't. In my opinion, Fashion do's and dont's lists are seriously useless;
being stylish
is not about wearing exactly what magazines tell you it's alright to wear or whatever Rachel Zoe says, it's about wearing anything you want with grace and feeling comfortable in your own skin. Also, I specially remember a day back in 2006 when I was laying in bed, watching TV, it was a countdown of the worst trends, those which 'should never come back'. Tights and dip-dyed tees made it into the list and guess what? They came back and almost everyone got into them. Trends are relative. What can be cute for some person, could be horrid for another person, which means these lists should be no guarantee for telling you what's alright to wear.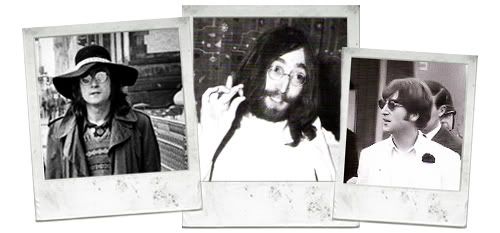 The first person who comes to my mind when somebody speaks about round glasses is John Lennon. I'm pretty sure this happens to most of you. It's summer here and sunglasses are worn in a daily basis. Everyone here is wearing rayban wayfarers, which are still cool to me, but not as cool as they were to me last summer. I can't say I'm a shoe person or a purse person, I'm more of a sunglasses person, I own many of them and I'm always looking for a different pair. The last shopping challenge I put myself in was finding the perfect pair of round sunglasses, although I knew they were hard to pull off. It was a long search (the truth is small round sunglasses are a tricky one and most of them looked funny on me), but it was yesterday when I finally found them. I found this man downtown who had zillions of them for an affordable price, he was very patient with me trying on almost every round pair in his little shop. If you notice,
they're not exactly round, but aren't like wayfarers either
. The interesting thing about this story is that after I came back home, pretty happy with my purchase, I reviewed my hotmail account and oh surprise
whowhatwear
had sent me a new article which mentioned
round sunglasses
as a "buy now" item. So, I guess, we'll be seeing more of them in the upcoming months!